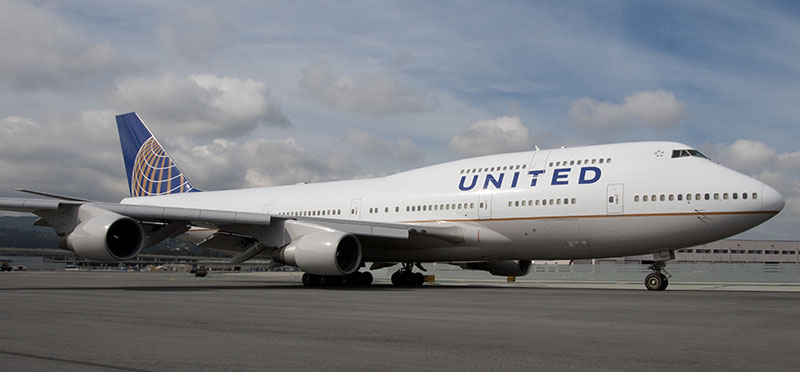 On November 7, 2017, United Airlines flew its last 747 flight. This is a special moment for our industry as we say a fond farewell to an aircraft that transformed the skies by making air travel affordable and convenient to many people.
IAC was first awarded a contract with United in the early 1990s, which gave IAC (at the time called Leading Edge Aviation Services) the opportunity to repaint our first Boeing 747. That pivotal project helped launch IAC as a serious paint service provider in the industry. Today, IAC continues to delight in being part of the changing face of both commercial aviation and the United brand.
Historically, IAC has painted United 747s at our Amarillo, Texas and Victorville, California facilities. In the past seven years alone, IAC has painted over 50 Boeing 747s, many of which were in United's fleet. The process to paint a 747 takes approximately 12 to 14 days, approximately 90 gallons of paint, and around the clock work from our AM and PM shifts. Over the years, United's 747 have worn a variety of liveries. IAC has painted 3 of the 6 different paint schemes for the carrier, including:
• "Worldwide" – January 1993 to January 2004
• "Rising Blue" – February 2004 to September 2010
• "Globe" – October 2010 to Present
United took ownership of its first Boeing 747-100 back on June 26, 1970. From the start, the 747's most important contribution to society has been its ability to bring people together across oceans and continents. IAC recognizes the end of an era as the last domestic United 747 flight landed in Honolulu, Hawaii from San Francisco on November 7th.
IAC has been a leader in livery transitions, and United was one of our largest projects back in October 2012 when they merged with Continental. We continue to be involved in airline mergers and livery changes across the globe, and look forward to our continued relationship with United. In some ways, IAC's status as the world's leading aircraft painting company started with its first work on United's B747s over 25 years ago. We're pleased to have been part of the B747 history and look forward to what the future will bring in aerospace.