We are proud to be an EASA approved Part21J Design Organisation (DOA). Our highly experienced global team is available to provide a full suite of minor and major aircraft modifications (STC). Our modifications can be provided with EASA, FAA, GCAA and CAAS approvals as required.

Why choose us for your engineering requirements?
We have extensive experience in providing design engineering, certification, and integration services for all commercial aircraft types (narrow body, wide body, and regional aircraft). We are proud to work with the largest Airlines, Aircraft Leasing Companies and MRO's globally.
We have global locations with Engineers located worldwide to support projects within your time zone. We can provide EASA, FAA and GCAA approved minor and major modifications.
Our team provides a turnkey solution for your aircraft transition or fleet modification programme. We pride ourselves on delivering on time and within budget.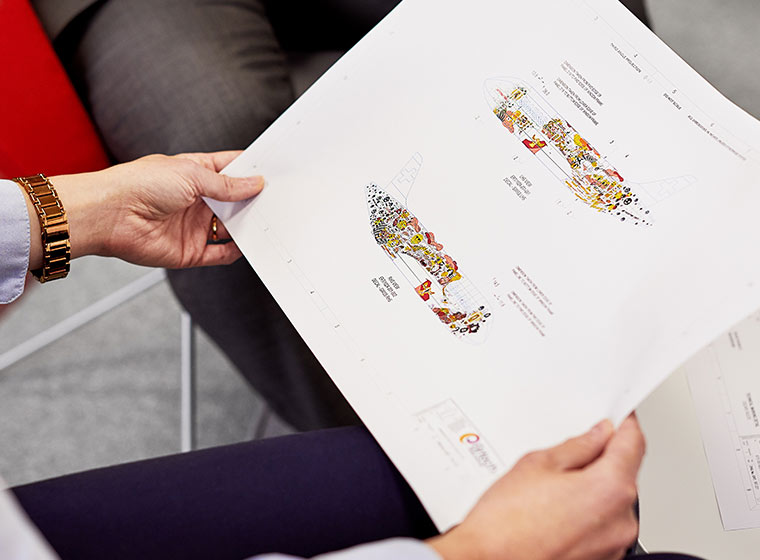 Our Design Services
Aircraft and Fleet Engineering Integration
Dedicated integration services to project manage complex aircraft modification programmes on narrow and wide body aircraft.
Integration of avionic equipment, IFE products and monuments from multiple vendors.
Integration of new seat models into customer aircraft.
Cabin Reconfigurations & Modifications
LOPA (Single to Multi Class and Multi Class to Single Class).
Emergency Equipment Layout / PSU / Overhead Bin Modifications.
Monument removals and installations.
IFE installations and removals.
Interior placard modifications and supply of placard kits.
Carpet and emergency escape path marking (EEPMS) modifications.
Burn certification compliance.
Cargo Fire bottle installation.
HF installation.
Installation of fixed and portable ELT, Cockpit Door Surveillance (CDSS).
Livery Design Packages
Design of livery packages for new airlines, rebranding of current airline fleets.
Specialist expertise in developing complex livery packages.
Supply of livery stencil kits, external decals, registration marking kits.
Avionic Modifications
Avionic Suite Changes
Upgrade of avionic systems to comply with regulatory mandates: CPDLC, ADS-B, FANS-1/A, TCAS 7.1, 8.33KHz Spacing.
T-PED operation – testing and certification.
Pin programming, EGPWS callouts, code changes.
Mode S, SELCAL, ELT Reprogramming.
CAM Reprogramming for Airbus aircraft.