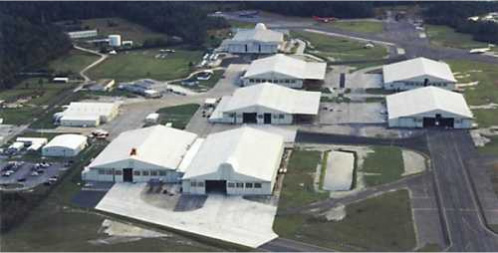 Greensboro, NC – HAECO Americas, a subsidiary of the HAECO Group with headquarters in Greensboro, North Carolina, USA, announced today with IAC (International Aerospace Coatings) that the companies have signed a three-year agreement for IAC to sublease Hangar 9 of HAECO Americas' Lake City, Florida, facility.
Jim Sokol, President of MRO Services, HAECO Americas said, "IAC provides a complementary service, which now allows us to offer full painting capability within our Lake City, Florida facility. IAC is recognized as a world-class leader expanding our customers' options when undergoing maintenance or livery needs."
Niall Cunningham, CEO of IAC said, "As IAC continues to grow, we are seeking out additional capacity across all of our major markets. HAECO Americas' Lake City facility provides an excellent East Coast solution for our customers and we're pleased to be working alongside HAECO in this manner.
The multi-year contract was signed last month with the first customer arriving September 16, 2017. The agreement also includes the option for further contractual extensions. Both HAECO Americas and IAC are working together to support each other's business and customer base.
About HAECO Americas
A wholly-owned subsidiary of the HAECO Group, HAECO Americas (formerly TIMCO Aviation Services) supports global aircraft operators and owners with comprehensive aircraft care services including base maintenance from three multi-hangar locations and engine MRO support in the U.S. The company's HAECO Cabin Solutions division provides interiors design, engineering, certification and cabin reconfiguration services, as well as manufactured products including passenger seating, structures, galleys and lavatories. HAECO Americas' website: www.haeco.aero
About International Aerospace Coatings (IAC)
International Aerospace Coatings, or IAC, comprised of three legacy companies Eirtech Aviation, Leading Edge Aviation Services and Associated Painters, has global headquarters in Shannon, Ireland with 14 state-of-the-art facilities throughout the US, Europe and now Singapore, including 9 wide body hangars. The company boasts the largest global footprint in the aircraft refinishing industry. IAC serves the commercial, military, VIP and OEM aviation markets and has worked on nearly every make and model aircraft in modern existence. Currently, IAC refinishes over 1000 aircraft per year throughout its global network.
Contact
For HAECO Americas:
David Kelly
VP Marketing and Strategy
Tel: +1(336)-668-4410, x4422 Email: David.Kelly@haeco.aero
For International Aerospace Coatings:
Nikki Thomas
Director of Marketing
Tel: 1(714)881.1887
Nikki.thomas@iac.aero