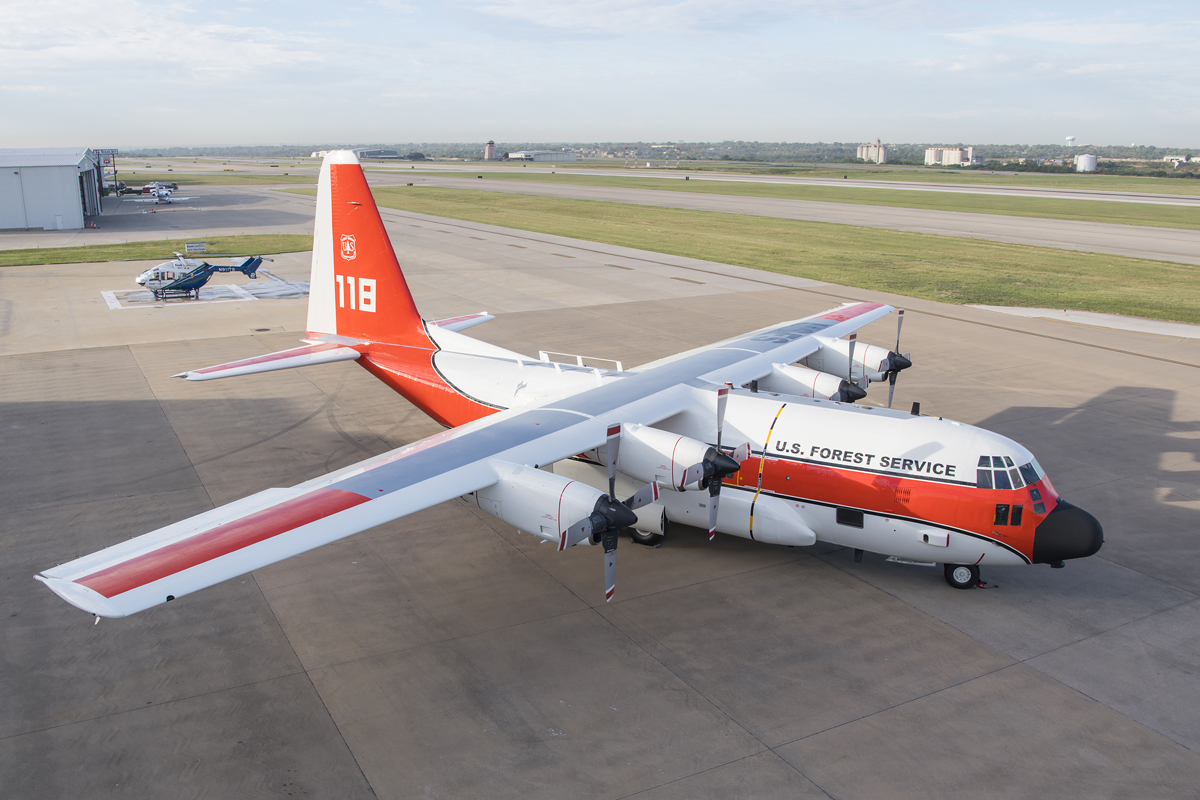 Our Fort Worth, Texas crew had the distinct pleasure and honor of painting another C-130 for the US Forest Service in mid-September. We are proud of our team of managers, painters and everyone involved in the completion of this amazing aircraft. Below please read the history of the C-130.
ONLY THE GODFATHER
CIA and Subsidiaries Exposed in Court Documents As Active Drug Smugglers Using Military Aircraft Washed Through Forest Service
December, 1998 Investigations Latest in Legacy of CIA's Drug Operations and Corruption of Government
Two Reagan Era Operators, Convicted in 1997, May Be Only The First To Hit The Graybar Hotel
The Dark History – In 1976 Senator Frank Church submitted CIA General Counsel Lawrence Houston to intense grilling over the Agency's questionable and illegal operation of proprietary air transport services. At that time, Houston admitted that the CIA had routinely used the United States Postal Service and the U.S. Forrest Service as covers for covert activities. Houston admitted that The Forest Service had been infiltrated by CIA and that CIA shared an address with the Forrest Service's Air Research and Development unit on Kent Street in Alexandria, VA.
Houston also admitted that the primary company, responsible for all of CIA covert air operations, was a holding company named Pacific Corp. There is an Oregon based corporation known as Pacificorp which has a multitude of sub entities with varying versions of the name including Pacific Power & Light, Pacificorp and Pacific Harbor Capital. In 1993 a Seattle paper ran a story connecting Pacificorp to CIA's Pacific Corp. Under oath, before the Senate in 1976, Houston admitted that Pacific Corp, owned and controlled such CIA notables as Air America, Southern Air Transport and Intermountain Air. In 1976 the CIA was ordered to sell Air America and divest itself of all its holdings.
Since 1973 the CIA had been anticipating this and had moved quickly to give all of its clandestinely owned aircraft to its alleged proprietary, Evergreen International based out of Marana Air Park near Tucson Arizona and McMinville Oregon, near Portland. Coincidentally, Medford Oregon is the home base of aircraft broker Roy Reagan. Reagan was convicted in 1997, along with another man on criminal charges stemming from a scheme to fraudulently take $80 million worth of airplanes from the U.S. government and place them in private hands. Reagan was also the broker for Evergreen according to a lawsuit filed by former CIA pilot Gary Eitel.
In the late 1970s and early 80s former military and CIA pilot Eitel, also an attorney, became aware that the CIA was planning to move a number of Australian C-130s under CIA control into the private sector and transfer them to Bogota Colombia. "They were to be used for drug smuggling," said Eitel. The attorney for the transfer was a man named John Ford who in later years represented Pacificorp, Pacific Harbor Capitol and who is currently said to be senior in-house attorney for Pacific Gas and Electric in San Francisco (no connection). Several of the Australian C-130's turned up in the drug trade and were moved through facilities in Arizona and Mena, Arkansas, among others, on their way into the cocaine trade.
Eitel has testified in Federal Court and confirmed to From The Wilderness that CIA was flying drugs into Mena Arkansas as far back as 1971-5. Eitel began his relations with CIA in 1968 as a helicopter pilot who was willing to fly risky combat missions in Vietnam. He has since broken with the Agency and has proven that by giving sworn testimony both in court and in Congress exposing illegal CIA operations.
Eitel, who has testified as an expert witness in several civil and criminal cases, is now representing the U.S. Government as a private citizen in a civil action charging the Forest Service and CIA with defrauding the American people of close to $80 million dollars in the illegal transfer of 35 C-130 aircraft to a number of private firms. These firms serve as contractors to the Forest Service. The aircraft transfer program, begun in 1987, was intended to give private contractors serviceable aircraft in exchange for worn out ones to help the Forest Service fight fires as converted air tankers. Instead they have turned up all over the world on covert operations. A few have been caught full of drugs as recently as 1996.
THE AIRPLANE
The Lockheed C-130 Hercules first entered the inventory of the U.S. Air Force in 1955. To this day it remains one of the most versatile cargo aircraft ever built. The Air Force includes various versions of the C-130 in its operational plans through the year 2015. It can fly at cruise speeds of up to 350 mph, is capable of taking off from short, unimproved runways and can haul loads of up to 50,000 pounds. It is capable of dropping those loads from a rear ramp while literally "on the fly". While new C-130s cost the government around $20-25 million, used aircraft are generally valued by the GAO at up to 3.5 million each. A GAO report lists the value of one propeller at $100,000 and one engine at $250,000. It is the perfect drug smuggling aircraft for long hauls.
Under United States law the C-130 is a military munitions aircraft which is tightly controlled. It is forbidden to export one to a foreign country without the prior approval of the State Department, the Department of Defense, the FAA and the CIA. The CIA is the only governmental agency with enough clout to secure permissions from all of the preceding entities.