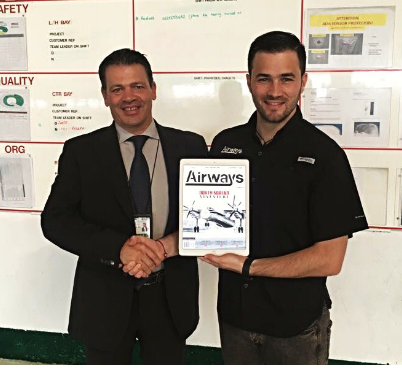 In September IAC welcomed Enrique Perrella, Editor of Airways Magazine, a U.S based publication to our Rome facility to meet with General Manager, Angelo Lacorte, to learn about the business operations and day to day tasks when it comes to painting an aircraft. The first story of this kind for Airways Magazine.
As an aviation enthusiast with Italian roots, Enrique often visits Rome, stopping outside the IAC hangar in Fiumicino to see if any newly painted aircraft have been rolled out. This time Enrique had the opportunity to learn the step by step processes of reaching the final product he usually saw coming out of a hangar by interviewing our Rome facility General Manager, Angelo Lacorte.
Angelo walked Enrique through every step of painting an aircraft, showing him how the business operates from scratch all the way from the initial conversations to delivering painted aircraft to clients, demonstrating the planning, preparation and design that goes into painting an aircraft and the scale of our company.
Speaking of his visit Enrique said: "It's the most interesting visit I've done as Editor of Airways. The one I've enjoyed the most. And one that I'd love to repeat."
Keep an eye out for this story due to feature in the February 2017 edition of Airways Magazine.