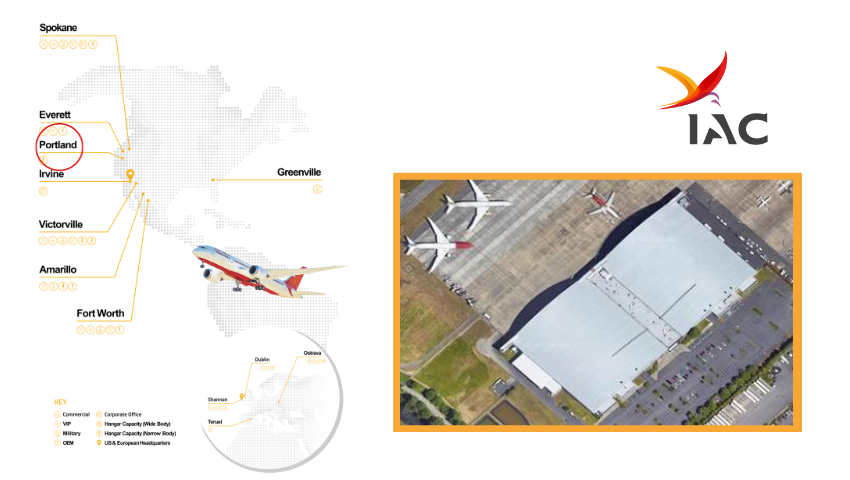 International Aerospace Coatings ("IAC" or the "Company") has expanded its relationship with Boeing and was recently awarded a long-term contract to operate both of the Boeing widebody paint facilities in Portland ("PDX"), Oregon, USA, commencing January 1, 2024. IAC has partnered with Boeing since 2012 and is excited to serve as a key partner to support the company's business plan.
IAC's expansive global footprint across North America and Europe, combined with its strong operational track record, has enabled the Company to become a key supplier to Boeing and other leading aircraft manufacturers, owners, and operators. The two Portland widebody facilities are each capable of accommodating up to a Boeing 777 and will be primarily used to paint new production aircraft.
IAC's operation of the PDX facilities, in addition to IAC's existing Victorville contract with Boeing, will be vital to support Boeing in achieving its targeted production volumes. The addition of the PDX location increases the total number of paint lines available at IAC's US locations from 16 to 18 and globally from 26 to 28.
Martin O'Connell, CEO of IAC, stated: "I am delighted to make this announcement and this is a very exciting opportunity for IAC to expand our long-standing relationship with Boeing. The partnership with Boeing is a direct result of the trust they have in us, and we take immense pride in that trust. Our best-in-class performance, reliability, and commitment to our customers continue to create opportunities for both IAC and its customers. I very much look forward to commencing operations in January 2024 and ensuring we deliver the same world-class levels of performance in Portland as we do in all our other locations."
About International Aerospace Coatings
IAC is a market leading aviation services company headquartered in Irvine, California and Shannon, Ireland. IAC specializes in aircraft painting, aviation technical services, aircraft interior refurbishment and aircraft graphic solutions for aircraft manufacturers, commercial airlines, leasing companies, air cargo carriers, governments and other owners of wide- and narrow-body aircraft. IAC also provides engineering services and asset management solutions to help customers ensure regulatory compliance through its Eirtech Aviation Services (EAS) division. For more information, visit www.iac.aero.
About Boeing
As a leading global aerospace company, Boeing develops, manufactures and services commercial airplanes, defense products and space systems for customers in more than 150 countries. As a top U.S. exporter, the company leverages the talents of a global supplier base to advance economic opportunity, sustainability and community impact. Boeing's diverse team is committed to innovating for the future, leading with sustainability, and cultivating a culture based on the company's core values of safety, quality, and integrity.