IAC recently completed another special livery for United Airlines. The United Airlines Boeing 737-800 aircraft with a Star Wars-themed livery was painted and kept a secret at the Amarillo, Texas facility until its unveiling on November 6, 2019.
For IAC the opportunity to be a part of the acclaimed "Star Wars" franchise, along with our long-time customer United, was a highlight for 2019. This Livery has been turning heads and making headlines around the world since its debut. Whether on the news, in social media or at the airport, everyone wants to see and fly on the "The Rise of Skywalker" 737-800.
The time-lapse video, showing the dramatic transformation of the United-branded aircraft into the "Star Wars" paint job, has been published to IAC's major social media platforms, including Twitter, Facebook and Instagram.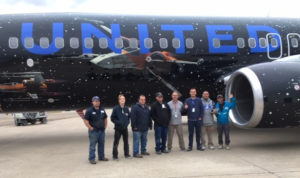 "The amount of work that was accomplished along with all the United Engineers, Camera/Video persons, Marketing and Disney Reps, AkzoNobel Reps and the Avion Graphics Teams that were on site and to not have any safety or quality escapes during those 19 days was a good job. The pilots that flew the aircraft out to IAH were so impressed and happy that they would be the first pilots to fly the Star Wars painted aircraft. The Aircraft looks AWESOME and will turn lots of heads out there flying around. In closing and on behalf of United I would like to say Thank You to everyone for a job well done," said United Program Manager Dan DeBaca.
Fun fact – One side of the United "Rise of Skywalker" livery represents the "First Order", with the other side representing "The Resistance."