IAC are pleased to completed Air Wisconsin Airline's livery transition program, encompassing 40 x CRJ-200 aircraft.
Irvine, California – IAC (International Aerospace Coatings) announced today that it has completed Air Wisconsin Airline's livery transition program, encompassing 40 x CRJ-200 aircraft. The project, which began in late January 2023 at IAC's Amarillo and Fort Worth, Texas facilities, included painting 200 regional jets from its previous brand into 35 American Eagle and 5 Retro Air Wisconsin liveries over an aggressive, short-term period. This transition is part of Air Wisconsin's new long-term contract with American Airlines.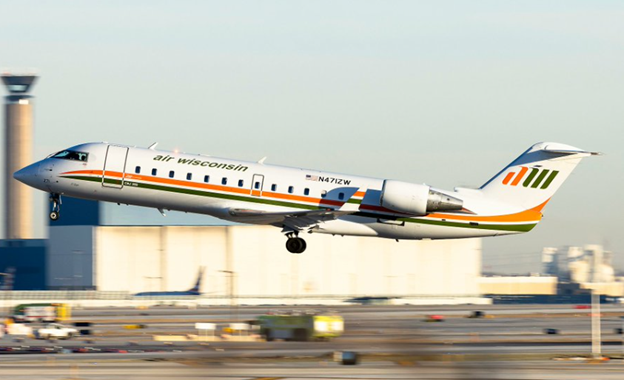 While painting 40 aircraft across two facilities in 6 months is no small feat, IAC is renowned for fleet livery transitions of this size. IAC plays a major role in fleet transitions and special liveries, having been the sole or main provider in Southwest's new livery program, the American/US Airways merger, United/Continental merger, and Delta/Northwest merger to name a few.
Herb Curtis, IAC's VP of Operations overseeing the Air Wisconsin program, said, "We're appreciative to be working alongside Air Wisconsin again on the latest rebranding of their aircraft. Both our Amarillo and Fort Worth crews have been working hard to support the aggressive deadlines while maintaining a high-quality product, and their efforts have been paying off. IAC is proud of the 40 aircraft program completion in under 6 months."
Ed Baronowski, Director – Contract Maintenance & Engine Programs for Air Wisconsin Airlines said, "We are pleased to partner again with IAC as we transition our fleet to our Retro livery and American Eagle branding. The unique opportunity IAC was able to provide, combining our relationship with Mankiewicz and the livery change taking place in two locations was valuable in a compressed time to complete this transition. IAC and Mankiewicz have provided the resources required for all phases to meet the strict turn times."
About Air Wisconsin Airlines
Operating as a regional airline in the United States since 1965, Air Wisconsin Airlines performs flying services for American Airlines operating as American Eagle throughout the Midwest and East Coast. We support a regional network bringing passengers from their hometowns, large and small, to hubs that provide them with a gateway to countless travel destinations. For more information, visit our website at www.airwis.com
About International Aerospace Coatings
International Aerospace Coatings (IAC) has US headquarters in Irvine, California and EU headquarters in Shannon, Ireland with 12 state-of-the-art facilities throughout USA and Europe, including 8 wide body hangars. The company boasts the largest global footprint in the aircraft painting industry. IAC serves the commercial, military, VIP and OEM aviation markets and has worked on nearly every make and model aircraft in modern existence. Currently, IAC has capacity to refinish over 1000 aircraft per year throughout its global network.
For more information, visit our website at www.iac.aero
See more press here