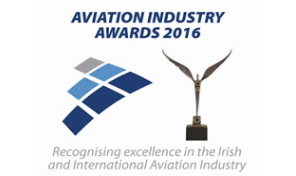 The 2016 Aviation Industry Awards Shortlist has been announced with many of Irelands most successful and emerging aviation businesses making the final cut.
This year's black tie awards ceremony will take place on Wednesday December 7th at the Clayton Hotel on the Burlington Road in Dublin.
We are proud and delighted to announce that Cathal O'Rourke, Graduate Production Manager here at IAC has been shortlisted for the 'Upcoming Aviation Professional Award'.
Originally commencing in Eirtech Aviation in 2014 as Environmental Health and Safety Officer, Cathal held this role until April 2015 when he expressed an interest in joining the Production Management Graduate Program. In October of this year Cathal successfully completed the 18-month program and was appointed as Production Manager within the IAC group.
Over the last two years, and in particular the last 12 months, Cathal has made a significant impact on the IAC European Operations. Through standardised procedures, implementation of best practice, reduction on material costs and engaging with customers to develop strong customer relations.
IAC is confident that Cathal has every ability to have a successful and fulfilling long term career in aviation and we wish him well at the upcoming awards ceremony.