(along with a few well-known faces)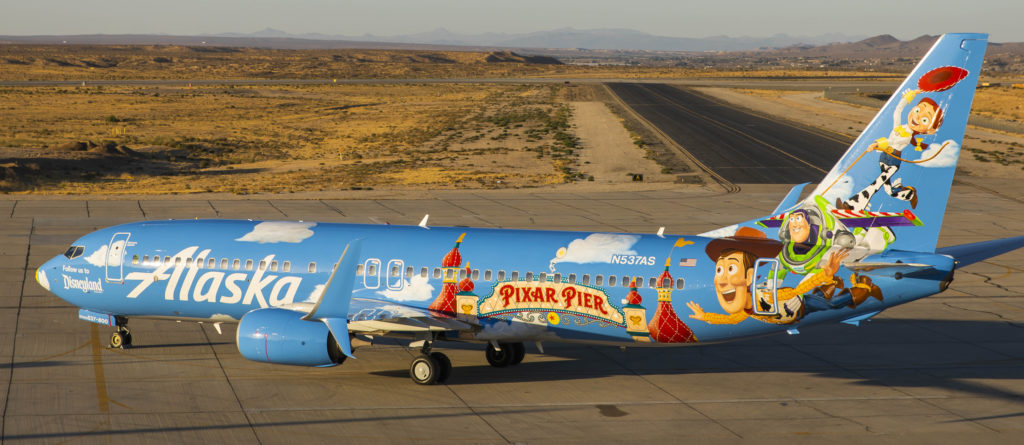 IAC recently showcased its latest special livery aircraft for Alaska Airlines that offers a whimsical tribute to Disneyland's "Pixar Pier" at the California Adventure theme park, along with a few well-known faces!
Alaska Airlines "Toy Story" themed B737-800 was one of many special-liveries IAC has accomplished in 2019. To get the job done, the exterior of the plane required more than 2,800 labor hours, 24 days, and used more than 50 gallons of paint — in 44 primary colors and custom shades. IAC's Victorville, California team completely repainted the aircraft with the vibrant new livery and kept the "Buzz" out of the public eye until the airline had their official unveiling in Portland.
IAC worked side by side with the teams from Alaska Airlines, Akzo Nobel & airbrush artist Andre Eisele to deliver the graphics, coloring and paint perfectly applied on the trio of familiar Pixar characters that span both sides of the aircraft: Woody, Buzz Lightyear and Jessie of Toy Story fame. For more added fun, one of the Aliens from the popular animated movie series can be spotted on both winglets, and even Rex the Tyrannosaurus makes a special appearance at the boarding door. The plane is named "Friendship and Beyond at Disneyland Resort," and indeed friendships were solidified in the process.
To watch the Pixar-themed aircraft come to life click here