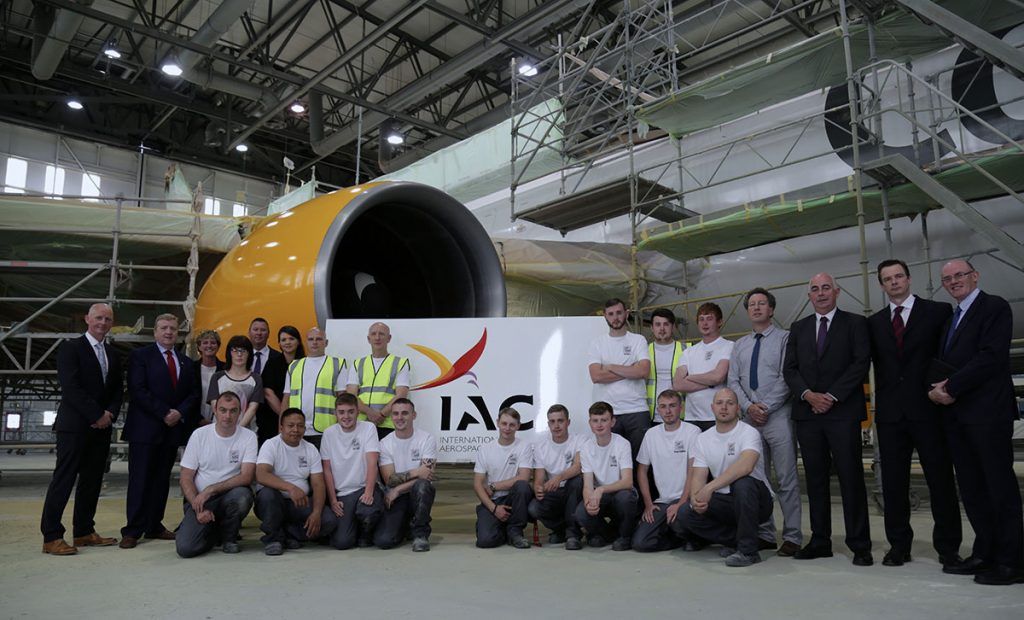 In June, International Aerospace Coatings launched an Aircraft Surface Finishing Diploma Course in conjunction with the Limerick, Clare Education Training Board. As Ireland has an international reputation as a world-class centre for aircraft painting and maintenance services, it is incumbent to us that this reputation prevails and that specialist skills are passed on to those who will become the future of the aviation services sector.
Fourteen candidates were selected to undertake the new 30 week course in our Shannon facility, with the successful candidates being awarded a City and Guilds (1789-31) Diploma in Aircraft Finishing. This course provides a unique and exciting experience as students will get the opportunity to work on a full-size aircraft, gaining invaluable on-the-job experience, working with our team of experts. As a leader in our field we have the requisite capabilities and support mechanisms to provide each participant with a strong skillset that will not only provide the candidates with a recognised qualification but also with an opportunity of employment with Eirtech Aviation, an IAC company.
The Minister of Employment and Small Business, Pat Breen, TD, welcomed our announcement that fourteen candidates were selected to train at our facilities in Shannon, Co. Clare, noting that we continue to play a key role in Ireland in the development of international aviation.
We wish our fourteen chosen candidates the very best in successfully completing the course and for their future in the aviation sector.